Pokémon Go Celebrates Halloween with New Spooky Pokémon, In Game Bonuses, Witch Hat Pikachu, and More!
Home » Blog » Chicago's Local Halloween Fun Guide, Halloween's Hottest Trends, Little Ghost & Ghouls Corner , Halloween Headlines
October 20, 2017 By Cait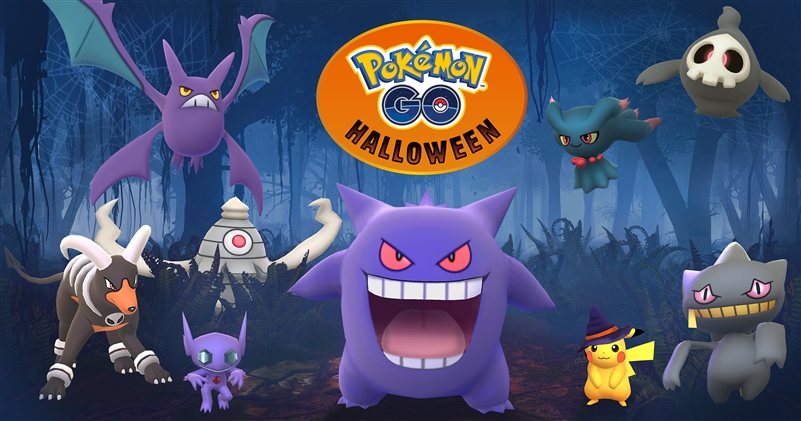 Catch Spooky Pokémon Never before Seen in Pokemon Go This Halloween!
Photo by:
The Pokémon Company & Niantic Labs.
Pokémon Go trainers are in for a real treat this Halloween Season - no trick! Niantic Labs, creator of the wildly popular Pokémon Go game, has announced that it's rolling out all sorts of spooktakular fun in celebration of Halloween! Pokémon Go's special Halloween Event will start on Friday, October 20th at 12 PM PDT, and run through Thursday, November 2nd at 1 PM PDT.
This year's Halloween Event has been highly anticipated by Pokémon Trainers across the country, as Niantic will be rolling out all sorts of great goodies this year - there will be a special Halloween-edition Pikachu in a Witch's Hat which trainers can catch, as well as a special "trick or treat" event for trainers and their buddy Pokémon, where trainers can earn 2x the candies for their buddies while they walk. Rewards for catching, hatching, and transferring Pokémon will also be doubled, so there will be lots of in-game candy to go around! There will also be a special spooky Mimikyu Hat for players in-game avatar, so that trainers can get into the Halloween spirit in game too!
But that's not all - in addition to in game bonuses, and special festive Pikachus out there, Niantic has announced that it will be releasing a few of the spookiest generation three Pokémon for the first time in Pokémon Go - Sableye, and Banette, although it's been teased that other "ghost type Pokémon" may make appearances as well. These Pokémon were first seen in the handheld Pokémon games in Pokémon Ruby & Sapphire, and Pokémon Go Trainers have been eagerly anticipating the release of the entire Gen 3 lineup of Pokémon into the PoGo Games. The entire line up of Gen 3 Pokémon is said to be released sometime in December, according to the official Pokémon Go website.
If those Halloween treats weren't enough, the Pokémon GO team is holding a photo contest for the best AR Pokémon Go Photos. Simply take a cool AR Photo while playing the game, and post it to your Instagram using the hashtag "PokemonGOHalloween" for a chance to win some spooktakular prizes!
Are you a Pokémon Go Player? Will You Be Trying to Catch 'em All This Halloween during PoGo's Spooktakular Halloween Event? Let Us Know in the Comments Below!